2021. June 01.
Some plans can be postponed, but not your education. Learn more about the University of Szeged at the upcoming virtual event and build your future with us!
Thinking about pursuing your studies in the heart of Europe? The beloved Hungarian university city, Szeged is the perfect choice for you! Join us on our Online Open Day to discover the University of Szeged!
Are you into medicine, health studies, sciences, research, economics, music or languages? Our 12 faculties' study programmes surely got your interests covered. Throughout the presentations you'll have the chance to learn about the large variety of our study-programmes.

Unsure about what it's like to live in Hungary or Europe? Don't worry, we are here to show you how wonderful student life is in our city and what a welcoming community awaits you at the Szeged Campus.
You want to know what the University and the town of Szeged is like from the perspective of a student? You will have a chance to ask our enrolled international students about their own experiences.
Save the Date and REGISTER HERE for the
SZTE Online Open Day 2021

on 2nd June 2021 between 10:00 - 14:30 CET (GMT+2)
Preliminary Programme
10:00 Introductory Session & Welcome Presentation
10:25 Health Science Programmes for International Students
10:40 Non Health Programmes for International Students
10:55 Application Tips
11:10 Scholarships for International Students
11:20 Student services & Student Life in Szeged
11:30 – 12:00 Live Q & A Session
12:00 – 14:00 Faculty and Programme Specific Information Sessions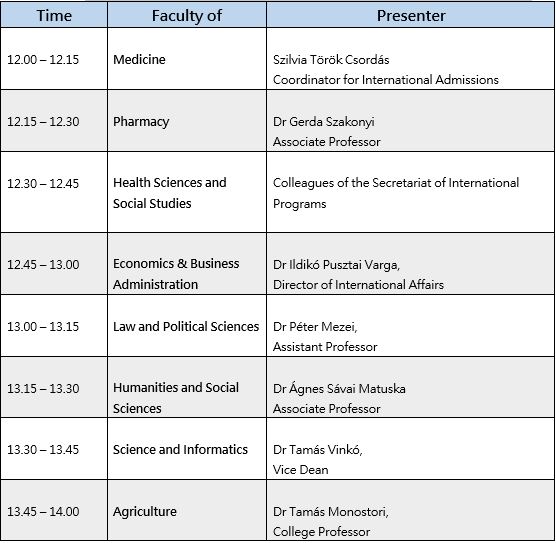 14.00 – 14:30 Meet & Ask the SZTE Students
Still unsure or having questions? All the more reason to join us! We are looking forward to seeing you there. In the meantime feel free to browse the website of the event and follow us on Facebook, Twitter or Instagram.
Looking forward to meeting you there!
Office for International Affairs
Directorate for International Affairs