2021. September 27.
The popular series of events, called Autumn Cultural Festival, organized every autumn is about to start at the University of Szeged.
The 25th Autumn Cultural Festival will be opened with a special light painting.
On Thursday, 30th of September a colourful series of events will take place at a colourful university since it marks that time of the year when the University of Szeged Rector's Department is covered in lights.
Program
18.30: A joint performance by the Sun City Singers and the Suhancok
Sun City Singers band members: Krisztina Károlyfalvi (soprano), Judit Tóth (alto), Péter Szondi (tenor, beatbox), Barnabás Wodala (bass-baritone)
Suhancok band members: Ádám Fülöp, Tamás Király, Dániel Horváth, Levente Horváth
19.30 Light painting: – SZTE – University in Vivid Colors
Performing: Dr. Taka Kurokawa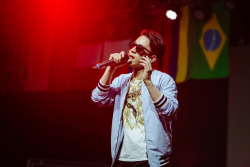 20.00: Cimbaliband Concert - The Fonó Klub Szeged season opening concert
Band members: Balázs Unger (cimbalom, vocals), Kornél Varga (guitar, cobalt), Máté Solymosi (violin), Gergely Tóth (double bass, viola), Lőrinc Babos (drums, darbuka, percussion, kettle, vocals)